This is one of the most inspiring video's I've ever seen. Randy Pausch was a professor at Carnegie Mellon University where they have a tradition called "The Last Lecture", which is the lecture you would give if you knew you were about to die.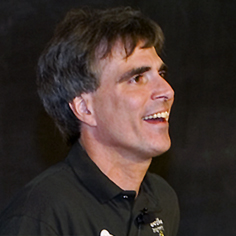 In his case, it was very real… he knew he had terminal cancer in his pancreas, and he gave this amazing lecture and had it recorded on video and uploaded to YouTube. It has been viewed 4,031,952 times. In other words, it went viral simply by word of mouth.
Now, this isn't about a lesson in marketing… it's about a lesson in how to live your life. I don't think I've ever heard anyone say it better. That's why I want to help him spread his message.
Randy Pausch just passed away two days ago. To honor him and his dream of helping as many people realize their childhood dreams, I am placing these two videos on my blog and encouraging you to watch them.
The first is the full Last Lecture. It's 76 minutes and 26 seconds long. Worth every minute. But I realize not everyone has the time. So I've also included a link to the shorter version when he appeared on Oprah. It's 10 minutes and 10 seconds.
Randy Pausch Last Lecture: Achieving Your Childhood Dreams (1:16:27)
Randy Pausch – The Last Lecture reprised on Oprah (10:10)
Here are a few the gems he passes on:
The brick walls are there for a reason — they let us prove how badly we want things.
When you are screwing up and nobody bothers to tell you, it means they have given up on you.
Experience is what you get when you didn't get what you wanted.
Wait long enough and people will surprise and impress you
Decide if you are a Tigger or Eeyore.
Don't complain just work harder
If you live your life the right way, the karma will take care of itself, the dreams will come to you.
Be sure to pass this on to others after you watch it.